July 23, 2012
Allied Systems Maintains Strong Dealer Relationships
In 1961, Bob Owens ordered his first Wagner Lumberjack, a model LJ330 with 30,000 lbs rated lift capacity. Sir Bob must have liked something. In the last 50 years, the company that is now C3 has ordered over 80 Wagner Lumberjacks and Carry Dozers. This includes a model L130 with 130,000 Ibs rated lift capacity for Rotorua Forest Haulage that is currently in production at Allied Systems Company in Sherwood, Oregon, United States. Much has changed over the last half century but the relationship that just celebrated its golden anniversary is still going strong.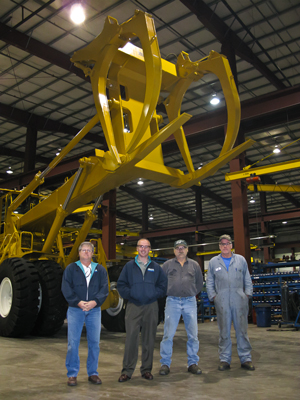 Allied has been in business for over 80 years, starting out as a manufacturer of sawmill and conveyor equipment. In 1981, Allied acquired the Wagner product. In the 1930's, the seven Wagner brothers developed a Mixomobile to more efficiently deliver cement to jobsites.
The Mixomobile was followed by the extremely successful Scoopmobile. The Scoopmobile had front wheel drive with a single steering wheel in the back, which should sound familiar to anyone who has been around a Lumberjack. The line of development from the Scoopmobile with its front wheel drive and rear tricycle steering to today's Lumberjacks is continuous and unbroken. The Wagner brothers also developed the first log skidders, FWD farm tractors, underground mining equipment and, of course, the Carry Dozer. Allied is proud to continue the Wagner tradition.
Allied has acquired four other product lines through the years, which are designed and manufactured in the same facility with our Wagner product. Allied Marine Cranes are designed and manufactured to the highest quality standards for customers around the world. Allied Winches are the world leader in bulldozer mounted winches and used on all brands of bulldozer throughout the world. Long Reach forklift attachments are used to improve material handling efficiency on forklifts throughout North and South America. Allied's latest acquisition is Freeman hay baling equipment. The primary market for the hay balers is here in the United States but some of these big red machines are used on dairy farms in New Zealand's south island.
As you can imagine the diversity of products makes for few dull moments at Allied. The common thread between all our products is that they are skookum ("skookum" is an American term, meaning "tough" or "durable"). All Allied team members take great pride in producing equipment that will stand up to the most demanding applications. Every day offers new opportunities to improve our products and make our customers more efficient.
All our products are sold and marketed via dealers. We believe that our dealers are key to the success of our products. A good dealer understands what the customer desires from the product and how the manufacturer's product fulfills those desires.
Allied is pleased with the long relationship we've had with C3. We're excited about what the future holds. There is a long-term need for custom designed log stacking and chip dozing equipment. We look forward to the next half century of fulfilling those customer needs.
---
Archives
---
Archives
Vol. 31, No. 2 (November 2012)
In this issue: New H4A Hydraulic Winch for the John Deere 450-650 and 700 Dozers; Allied PTO Winch Now Available on John Deere 750J/K and 850J/K
Vol. 31, No. 1 (August 2012)
In this issue: Versatility of H6H Hydraulic Winch Leads to New Applications; Winch Manuals at your Fingertips; Dealer Training Knows No Limits; Allied Supports Caterpillar in Bonneville Power Administration Fleet Upgrade
Vol. 30, No. 2 (October 2011)
In this issue: New H8L and H12E Winches Complete the Hydraulic Winch Product Offering; Allied's New Dealer Locator Steers Winch Business to You; Cable Plowing With the Allied Winch
Vol. 30, No. 1 (March 2011)
In this issue: Practicing Continuous Improvement to Benefit You and Your Customers; Winches Now Shipped With Electronic Manuals
Vol. 29, No. 1 (November 2010)
In this issue: New H6H Winch Offers Significant Improvements; Winch Paint Now Matches Your Dozer
Vol. 28, No. 3 (December 2009)
In this issue: The Hyster Winch Lives On; Boost Your Profits with Winch Service Kits; New 2-Speed Motor on H5C Rescue Winch
Vol. 28, No. 2 (July 2009)
In this issue: John Deere Teams with Allied for U.S. Marines; We Have the Winch for John Deere 450G-650G; Conversion Kits Put Your Winch Inventory to Work
Vol. 28, No. 1 (February 2009)
In this issue: New Komatsu Dozers Come With a Broad Array of Allied Winch Options
Vol. 27, No. 2 (October 2008)
In this issue: "Plug 'n Play" Winches for All Caterpillar Tractors; Winch Service Kits Make Periodic Service Easy
Vol. 27, No. 1 (March 2008)
In this issue: Allied Winches in Malaysia: Simplicity is Reliability; Download the 2008 Service Parts Price List using E-commerce; The Best Winch Deserves The Best Oil; Hooking the Big One
Vol. 26, No. 2 (June 2007)
In this issue: Dealer Creates Novel Winch Mounting for Track Loader; Conversion Kits Breathe New Life Into Old Winches
Vol. 26, No. 1 (January 2007)
In this issue: Recovery Winch Simplifies Installation, Reaches New Applications
Vol. 25, No. 2 (May 2006)
In this issue: Pulling Out All the Stops: Field Testing the WH6G Hydraulic Winch; Meet Dan Lanxon, New Territory Manager
Vol. 25, No. 1 (February 2006)
In this issue: Introducing a New Hydraulic Winch Family; 2006 Service Parts Price Lists Released
Vol. 24, No. 1 (August 2005)
In this issue: Hydraulics to the Rescue; Hydraulic Winches Simple to Maintain
Vol. 23, No. 3 (December 2004)
In this issue: Forest Firefighters Depend on the Allied Winch; Simple Adjustments Can Cure Many Problems
Vol. 23, No. 2 (November 2004)
In this issue: Allied's Newest Winch Gets Trial By Ice; Scott Did It: Cambria Helps Improve New Winch Mounting; Order Wire Rope With Your Winch
Vol. 23, No. 1 (May 2004)
In this issue: Updating the W6F: New W6G Winch Features Equal Fwd/Rev Line Speed; Go On-Line for the Complete Library of Winch Manuals and Forms; Our E-Mail Readers Reply
Vol. 22, No. 2 (October 2003)
In this issue: Oil Exploration Gets a Boost from Allied Winch; E-Commerce Website Speeds Filing; Lloyd Fowler Retires; On-Line Manuals Make Access Easy
Vol. 22, No. 1 (April 2003)
In this issue: A Monster Winch For A Monster Machine; Save Money, Clean That Strainer; 2003 Service Parts Price Lists Released
Vol. 21, No. 2 (July 2002)
In this issue: LANTEC Winches Power BP's Allied Marine Crane; On-Line Manuals Give You Quicker Access; Allied Winch Supports Latest Models From Case; Accumulators Give Your Winch a Boost
Vol. 21, No. 1 (April 2002)
In this issue: Hanging By a Thread on Pipeline Construction; 2002 Price List Includes Newly Revised Service Parts Policy Manual; 2002 Price Sheet Distribution Includes Lantec Winch; Does Your Freespool Need Adjustment?
Vol. 20, No. 3 (December 2001)
In this issue: eControls Bring Allied Winch into the Digital Age; Allied Announces Worldwide Launch of E-Commerce Website & Dealer Locator; Newest Komatsu Tractor Can Be Fitted with W3C Winch; Delivery Report Gets Your Warranty Started; W5C Winch Now Available for Komatsu D61
Vol. 20, No. 2 (August 2001)
In this issue: Pipeline Activity Spurs New Winch Developments; ASC Prepares to Launch E-Commerce Website; Training the Trainer; Pressure Checks Can Help Diagnose Winch Problems
Vol. 20, No. 1 (March 2001)
In this issue: "Brake-Off" Feature Provides Important Customer Benefits; New Parts Sales Reports Help Determine Stocking Requirements; Allied Winch Stays Current with the Latest Tractor Models; New Parts Service Bulletins Provide Important Product Updates
Vol. 19, No. 4 (December 2000)
In this issue: Allied Winch Reaches New Heights; Lantec Accord Launches Hydraulic Winch Thrust; Going the Distance for Customer Support; 2001 Parts Price List to Be Released Exclusively on CD-ROM
Vol. 19, No. 3 (September 2000)
In this issue: Allied Winch Keeps SUPERTRAK On The Move; Instant Access to UPS Data; Can I Use Motor Oil In My Power-Controlled Winch?; Happy Retirement to Bob Gebhart; Winch Engineering Staff Grows
Vol. 19, No. 2 (June 2000)
In this issue: Winch Engineers Hustle to Keep Up With Industry Developments; Hustling Those Parts To Your Door; Stalking the Hidden Serial Number; Critical Updates to W400 Winch
Vol. 19, No. 1 (February 2000)
In this issue: Mining Special Combines Brute Force, Finesse; E-mail Addresses Are Now Direct; Allied Winches Make a Splash in Alberta; Oil, the Lifeblood of the Winch
Vol. 18, No. 2 (June 1999)
In this issue: Choose the Proper Gear Ration; Mount that Winch Tight; Clark, Lufkin Winch Parts Now Offered by Allied; Lufkin Winch Manufacturing Hits Its Stride