April 2, 2009
Allied Systems Company's Marine Crane Division Continues to Dominate the Arctic
On March 27, 2009 the US Coast Guard awarded Allied Systems Company a $10 million dollar contract to provide deck cranes and auxiliary hydraulic power units for the USCG icebreakers Polar Star (WAGB-10) and Polar Sea (WAGB-11). This contract award represents part of a retrofit and reactivation of these older Coast Guard icebreakers to meet the needs of Homeland Security and the scientific community.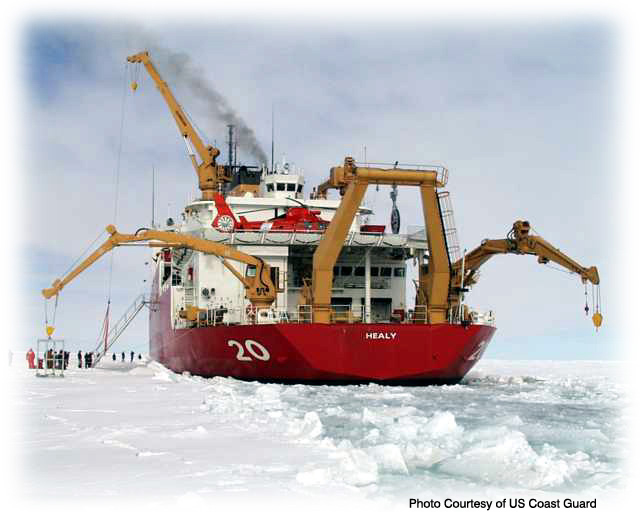 The Coast Guard will be replacing the three existing Marine Cranes on each 400' Polar Icebreaker (WAGB) class vessel with new cranes, consisting of one Allied Marine Crane telescopic boom model TB 60-60 forward and two Allied Marine Crane knuckle boom model K280-70 aft.
The hydraulic power units (HPU) will be stand-alone systems, complete with a central control panel that allows remote operation of the HPU and accessories from the cutter's Engineering Control Center. All equipment will be engineered, manufactured and tested prior to delivery at Allied Systems Company in Sherwood, Oregon.
This contract extends Allied's very positive relationship with the United States Coast Guard as a supplier of cranes and davits for more than thirty years. Allied's experience with icebreakers includes many years of exposure with arctic vessels such as USCGC Healy (WAGB-20), CCGC Louis St. Laurent and others, and with the engineering challenges of providing durable equipment for such adverse environmental conditions. These vessels continue to support an intense campaign of exploration into new frontiers in polar science, helping scientists to improve the world's understanding of the critical role of the polar regions in such modern-day questions as global warming and marine ecosystems. This new project is in line with Allied's core business of supporting research institutes such as Woods Hole, SCRIPPS, MBARI and, most recently, Oregon State University and its oceanographic research vessel R/V WECOMA.
Allied Systems Company is an industry leader in the engineering and manufacturing of specialized heavy lift and material handling equipment. Founded in 1976 in Sherwood, Oregon, Allied Systems Company acquired its Marine Crane Division in 1978 for the design and manufacture of specialized hydraulic box boom cranes for the military, petroleum and shipping industries.
For more information about Allied Systems Company, please visit www.alliedsystems.com.

For more information about Allied Systems Cranes, please contact:
John Adams
Marketing Manager, Marine Crane Division
503-625-2560 or by e-mail at crane@alliedsystems.com.

Go Back Home
About Allied | Product Lines | News | Dealers
Publications Locator | Career Opportunities
Site Map

Privacy Statement and Legal Notice