Leaders in the Design and Manufacture of Marine Cranes
Models
Model
Boom Length
Ft [m]
Capacity (Extended)
Lb [Kg]
Capacity (Retracted)
Lb [Kg]
Spec Sheet
Standard Winch
Overturning Moment
Ft-lb [n-m]
Crane Weight
Lb [Kg]
TB5-20
20 [6.10]
5,200 [2359]
16,700 [7,575]
Click Here
Braden PD12C
181,000
[245,403]
3,750 [1,701]
TB5-30
30 [9.14]
3,100 [1,406]
15,100 [6,849]
4,250 [1,928]
TB5-40
40 [12.19]
2,000 [907]
14,200 [6,441]
4,750 [2,155]
TB10-20
20 [6.10]
9,600 [4,354]
31,500 [14,288]
Click Here
Braden PD12C
320,500
[434,540]
4,500 [2,041]
TB10-30
30 [9.14]
5,900 [2,676]
24,900 [11,294]
5,000 [2,268]
TB10-40
40 [12.19]
4,100 [1,860]
20,500 [9,299]
5,500 [2,495]
TB20-20
20 [6.10]
16,800 [7,620]
53,900 [24,449]
Click Here
Braden PD15B
551,200
[747,327]
8,600 [3,901]
TB20-30
30 [9.14]
10,300 [4,672]
42,500 [19,278]
9,700 [4,400]
TB20-40
40 [12.19]
7,100 [3,221]
34,900 [15,830]
10,850 [4,921]
TB20-50
50 [15.24]
5,200 [2,359]
29,600 [13,426]
12,000 [5,443]
TB40-40
40 [12.19]
16,100 [7,303]
65,700 [29,801]
Click Here
Braden PD15B
1,194,300
[1,619,253]
18,000 [8,165]
TB40-50
50 [15.24]
11,700 [5,307]
54,700 [24,812]
18,800 [8,528]
TB40-60
60 [18.29]
8,500 [3,856]
55,100 [24,993]
19,600 [8,890]
TB40-70
70 [21.34]
6,300 [2,858]
50,500 [22,906]
20,500 [9,299]
TB60-40
40 [12.19]
24,500 [11,113]
105,100 [47,673]
Click Here
Braden CH210A
1,765,900
[2,394,239]
24,000 [10,886]
TB60-50
50 [15.24]
18,300 [8,301]
88,300 [40,052]
25,500 [11,567]
TB60-60
60 [18.29]
13,800 [6,260]
82,900 [37,602]
27,000 [12,247]
TB60-70
70 [21.34]
10,700 [4,853]
76,300 [34,609]
28,600 [12,973]
TB60-80
80 [24.38]
8,300 [3,765]
72,400 [32,840]
30,200 [13,698]
TB60-100
100 [30.48]
4,700 [2,132]
67,800 [30,753]
33,250 [15,082]
TB60-110
110 [33.53]
3,300 [1,497]
44,900 [20,366]
34,800 [15,785]
TB80-60
60 [18.29]
28,200 [12,791]
166,500 [75,523]
Click Here
Braden CH280B
3,227,000
[4,375,225]
43,250 [19,618]
TB80-70
70 [21.34]
22,400 [10,160]
148,800 [67,495]
45,600 [20,684]
TB80-80
80 [24.38]
17,900 [8,119]
141,600 [64,229]
47,950 [21,750]
TB80-100
100 [30.48]
12,000 [5,443]
133,800 [60,691]
52,650 [23,882]
TB80-110
110 [33.53]
9,300 [4,218]
131,000 [59,421]
55,000 [24,948]
TB100-70
70 [21.34]
24,700 [11,204]
152,100 [68,991]
Click Here
Braden CH280B
5,015,000 [6,820,400]

70,000 [31,752]
TB100-80
80 [24.38]
20,000 [9,072]
149,400 [67,767]
75,000 [34,019]
TB100-90
90 [27.43]
16,900 [7,666]
78,000 [35,380]
80,000 [36,287]
TB100-100
100 [30.48]
13,700 [6,214]
75,900 [34,428]
85,000 [38,555]
TB100-110
110 [33.53]
11,000 [4,990]
74,100 [33,611]
90,000 [40,823]
TB150-70
70 [21.34]
54,100 [24,539]
268,100 [121,608]
Click Here
Braden CH400B
7,080,800
[9,600,275]
72,900 [33,067]
TB150-80
80 [24.38]
44,800 [20,321]
237,800 [107,864]
76,900 [34,881]
TB150-100
100 [30.48]
32,300 [14,651]
202,300 [91,762]
84,980 [38,546]
TB150-110
110 [33.53]
27,000 [12,247]
196,300 [89,040]
89,000 [40,370]
TB300-70
70 [21.34]
81,100 [36,786]
371,700 [168,600]
Click Here
Braden CH400B
10,334,800
[14,012,107]
139,000 [63,049]
TB300-80
80 [24.38]
67,700 [30,708]
329,400 [149,413]
146,250 [66,338]
TB300-100
100 [30.48]
49,500 [22,453]
298,100 [135,516]
160,750 [72,915]
TB300-110
110 [33.53]
42,400 [19,232]
289,500 [131,315]
168,000 [76,204]
Note: Specifications are subject to change without notice or obligation. Please contact us for details.
Telescopic Boom Crane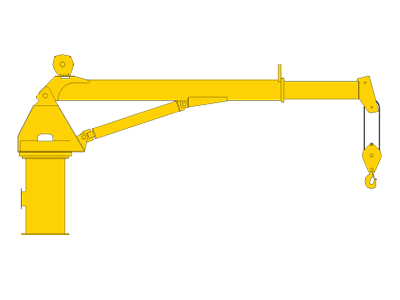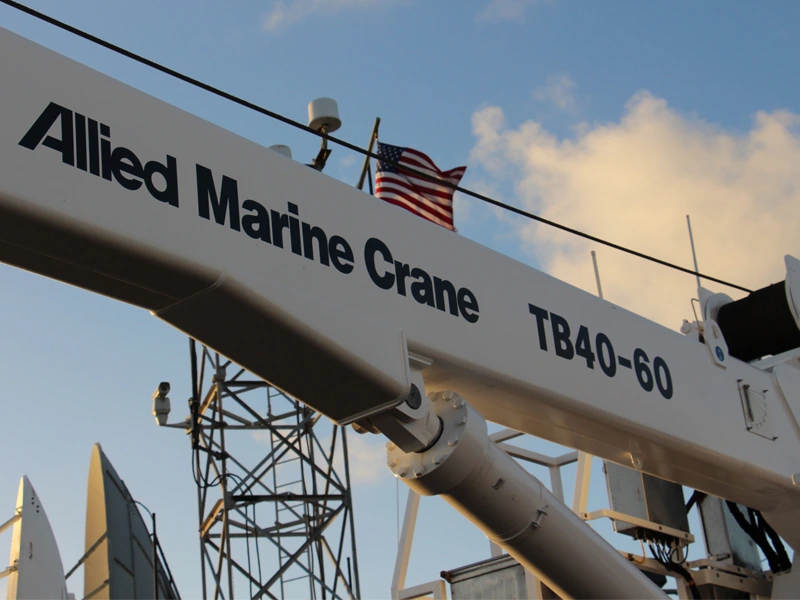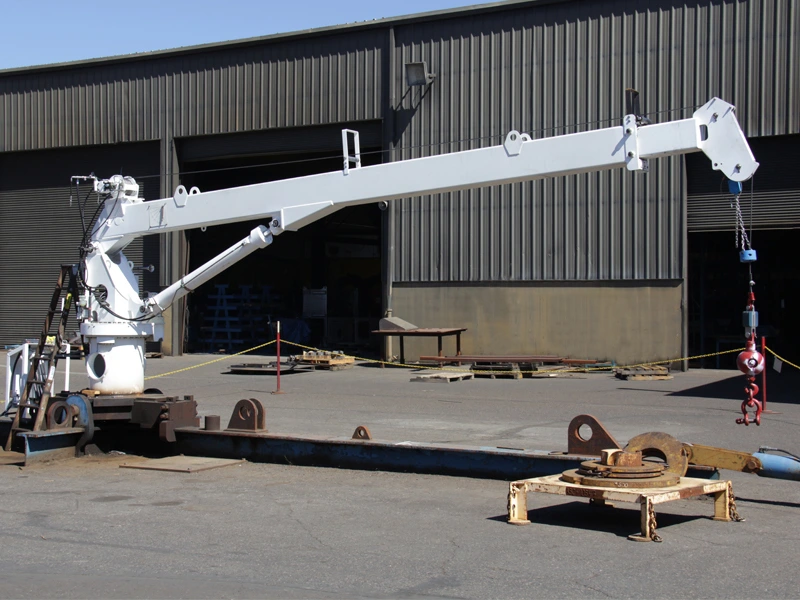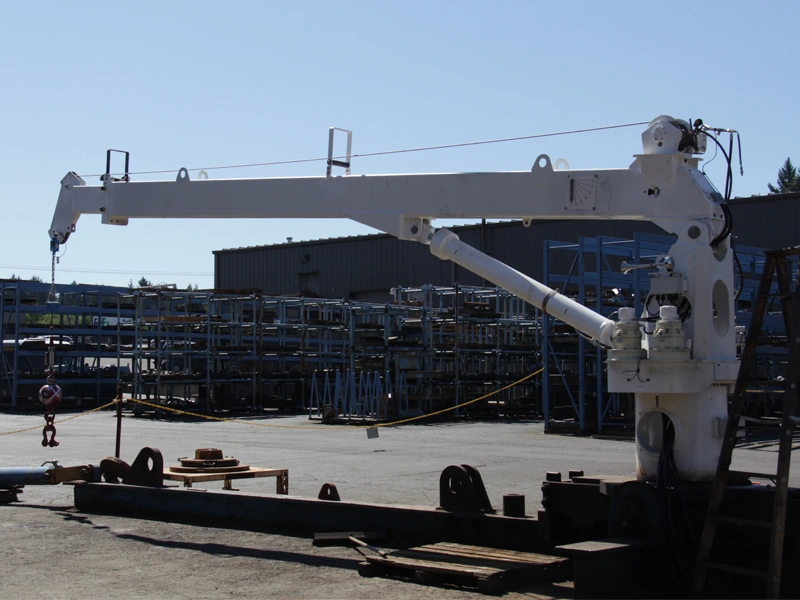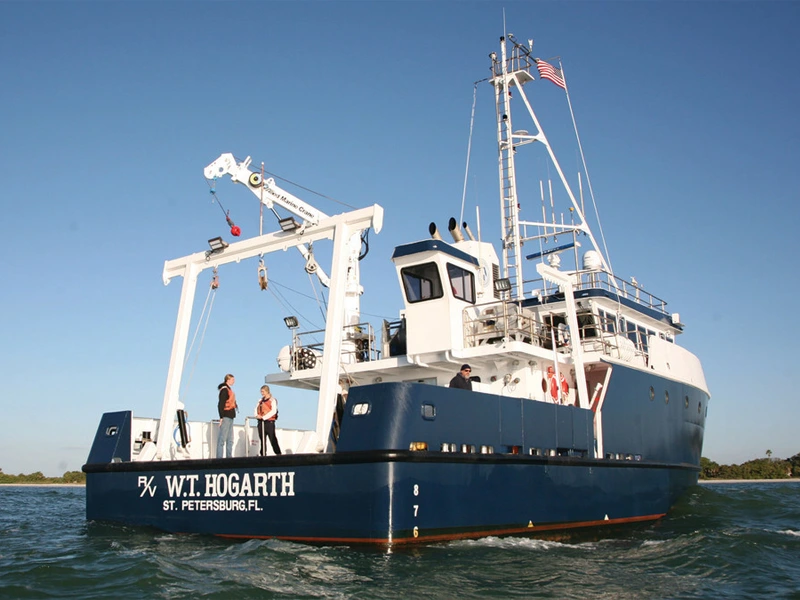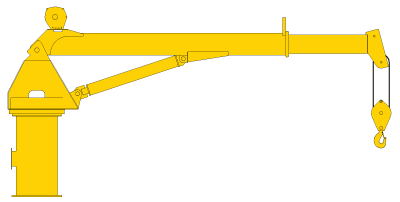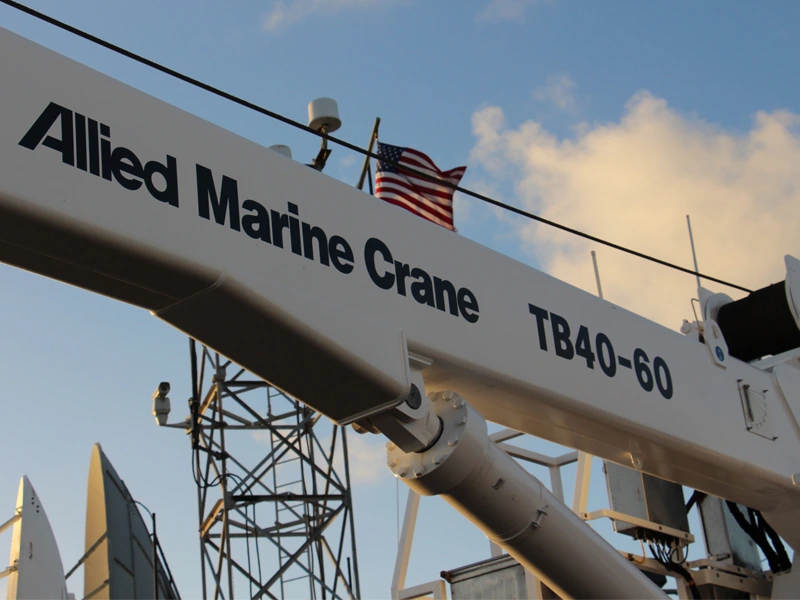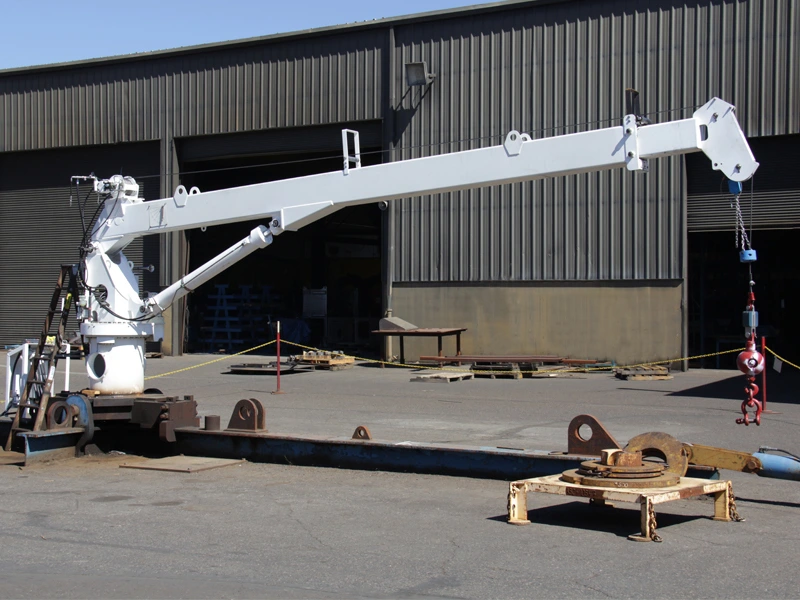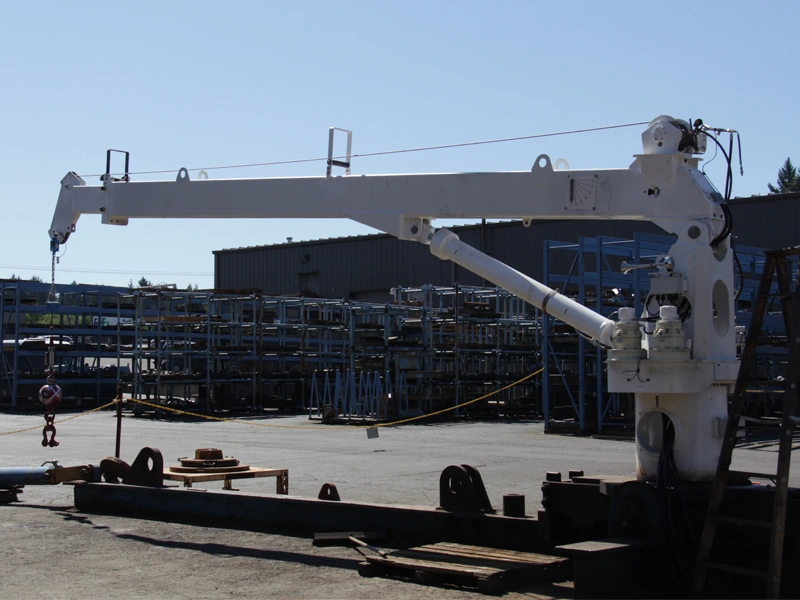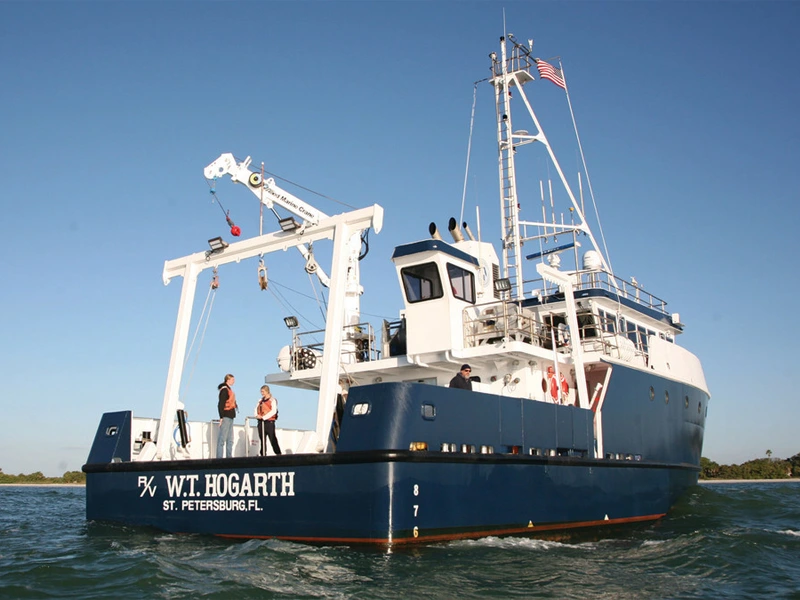 Allied's hydraulic jib booms give you the reach you want, in a crane that stores compactly and is easy to place. Continuous adjustment of the boom over the course of work results in a more efficient crane. Multiple booms ensure a Telescopic Boom crane will be able to meet your requirements for strength and agility. Years of severe duty on multiple US research vessels have proven our Telescopic Boom cranes' durability and performance. Capacities from 1 to 85 tons.
Features
2 Roller Bearing Sheaves
Swivel Hook and Safety Latch
3 Part Marine Coating System
2 or 3 Piece Telescoping Boom
Gravity Boom Angle Indicator
One Piece Tubular Construction Pedestal
OSHA Compliant
Open Turret Design
Spring Applied Automatic Brakes (Swing)
360° Continuous Rotation
Heavy Duty Marine Hydraulic Cylinders
Load Hold Valves
Crane Mounted or Remote Power Pack
Electric Motor
Built in Drip Pan and Return Filter
Options
Explosion Proof
Cold Weather Steel
Cab Air Conditioning and Heater
Heave Compensation
Stainless Steel Cylinder Rods
ABS Certification
API-2C Monogram
Load Indicator
Flood Lights
Stainless Steel Hydraulic Tank

Scroll to View Full Chart >>
Telescopic Boom Applications
View All Crane Applications »