Leaders in the Design and Manufacture of Marine Cranes
D-Series Davit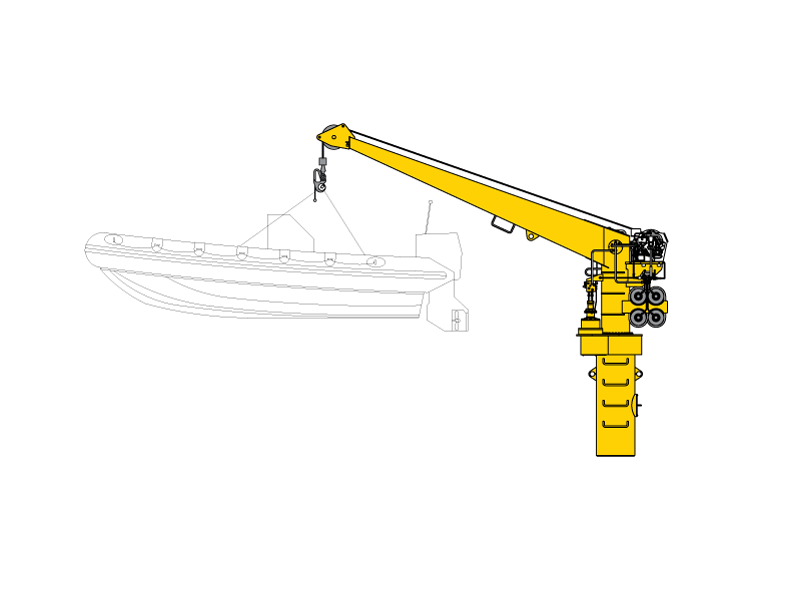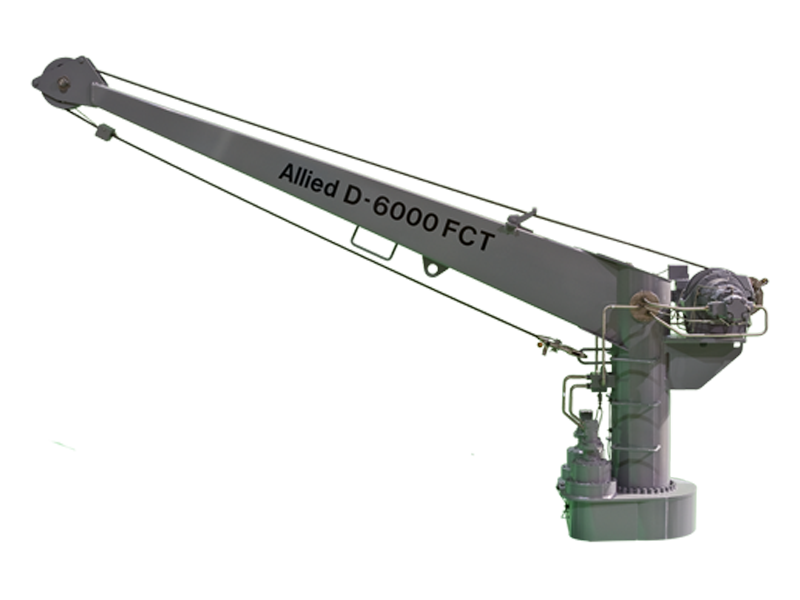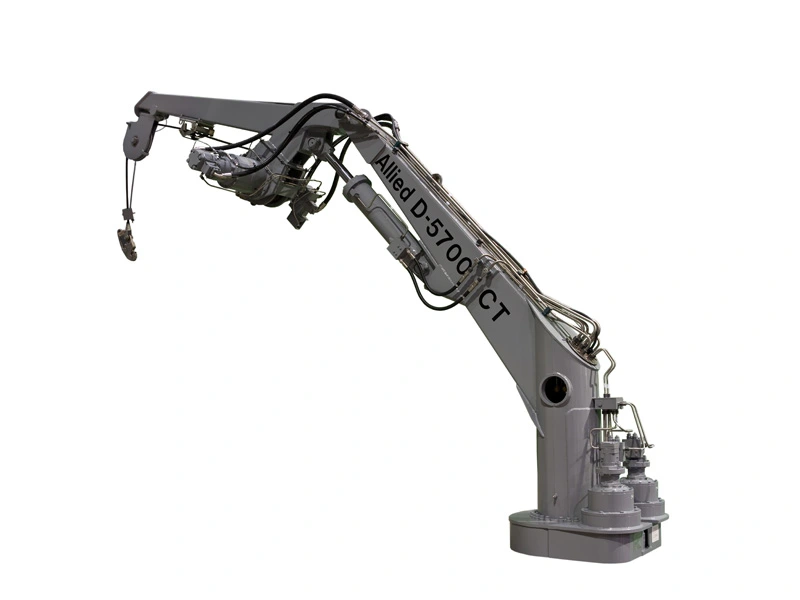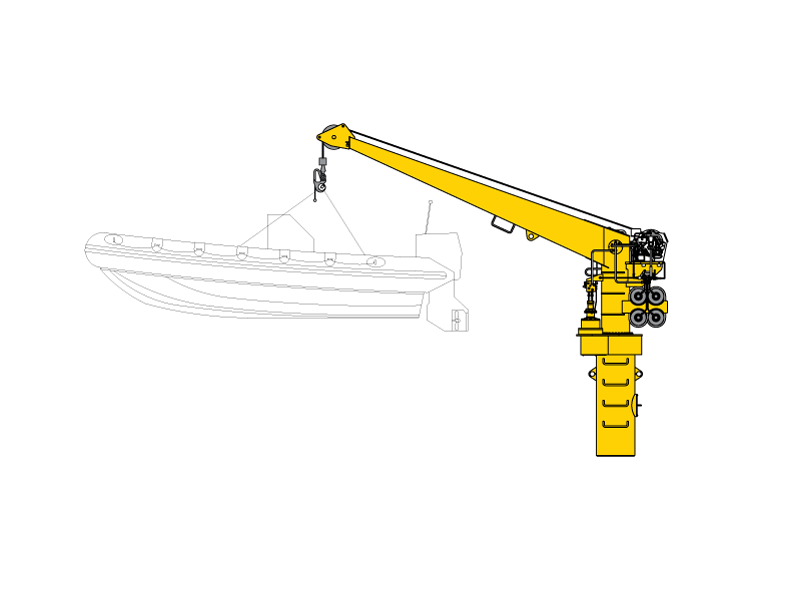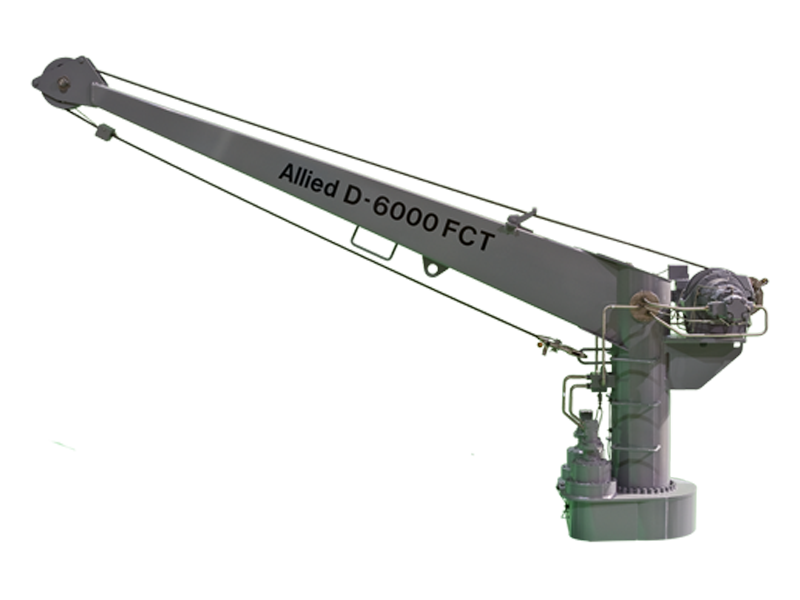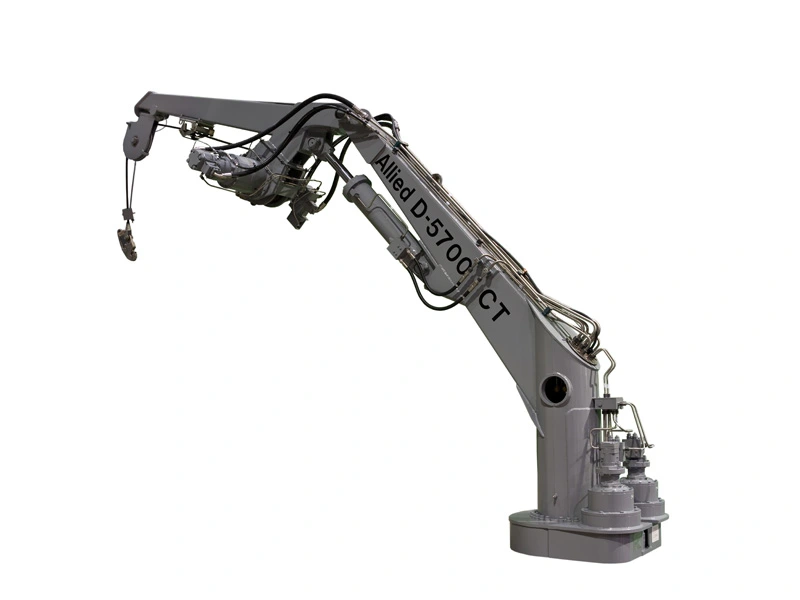 The Allied Slewing Arm Rescue Boat Davit system is designed to meet or exceed industry standards for retrieving rescue boats safely from rough seas. D-designated slewing arm davit models come in either fixed boom lengths or articulating boom configurations. Allied Marine davits feature quick-release hooks, Allied-built constant-tension winches, anti two-block systems and downstop systems for safe and simple lifeboat handling. All D-designated davit systems are single point type with specific models having USCG SOLAS approval. All Allied davits are designed for minimal maintenance and simplified operation. Each davit system incorporates an emergency backup power system for operation in dead-ship conditions. Standard lift capacities are 2,500, 5,700, 6,000, 6,700, or 10,000 lbs. Allied has the experience to custom design rescue boat davit systems to customer requirements while complying with strict industry standards.
Features
Manufactured in the USA
Quick Release Hook
Anti 2 Block system
Winch Downstop system
NEMA 4X Electrical Enclosures
Adjustable slewing stops, 0° - 270°
Stainless Steel hydraulic fittings and hose ends up to and including #20
High Tensile Steel Construction for weight savings
Stainless Steel Cylinder & hinge pins
Stainless Steel fasteners except for critical ones
3 Part Marine Protective Coating System
Options
Constant Tension Winch System for Slack wire rope prevention
Safety of Life at Sea (SOLAS) Certification
Boat Lifting Ring for release system in boat
LED Flood Lights
Customer Specific Pedestal Heights
Electric and/or Hydraulic Soft Start System
Reservoir Heater or Cooler
Adjustable Boat cradle
Customer Customization per requests
Scroll to View Full Chart >>
Models
Model
Boom Type
Capacity
Lb [Kg]
Overturning Moment
Ft-lb [n-m]
Crane Weight
Lb [Kg]
DXM2300S
Fixed
2,300 [1,043]
40,500 [54,911]
2,750 [1,247]
D2500
Fixed/Luffing
2,500 [1,134]
54,000 [73,214]
3,800 to 4,000 [1,724 to 1,814]
DX2800S
Fixed
2,800 [1,270]
43,000 [58,300]
3,000 [1,361]
D5700
Knuckle
5,700 [2,585]
93,150 [126,294]
4,700 to 4,750 [2,131 to 2,155]
D6000
Fixed
6,000 [2,722]
106,000 [143,717]
4,500 [2,041]
D6700
Fixed/Knuckle
6,700 [3,039]
143,000 [193,882]
4,500 to 5,000 [2,041 to 2,268]
D10000
Fixed
10,000 [4,536]
209,000 [283,366]
17,000 [7,711]
Note: Specifications are subject to change without notice or obligation. Please contact us for details.

View All Crane Applications »