New Generation Woodchip Carrydozers
Wagner Woodchip Carrydozers are the only Purpose Built chip-handling machine in the industry. Whether you are pushing wood chips, sawdust, hog fuel, or other woody biomass materials, Wagner's oscillating rear frame with true side on the centerline of the machine, provides unmatched capacity, productivity, and safety.


Features
Advantages
Options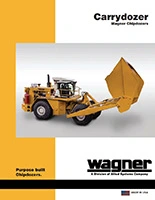 Model
Max Horsepower
hp [kW]
Bucket Push & Doze Capacity
cu/yd [cu/m]
Bucket Lift & Carry Capacity
cu/yd [cu/m]
Operating Weight
lbs [kg]
CHD60
400
[298]
60
[45.9]
30
[22.9]
83,000
[37,800]
CHD100
550
[410]
80
[61]
40
[30.6]
97,600
[44,271]
CHD100 (Export)
550
[410]
100
[76.5]
50
[38.2]
97,600
[44,271]

Note:
Values in this table are approximate.
Specifications are subject to change without notice or obligation.
Wagner Support