New Generation Logstackers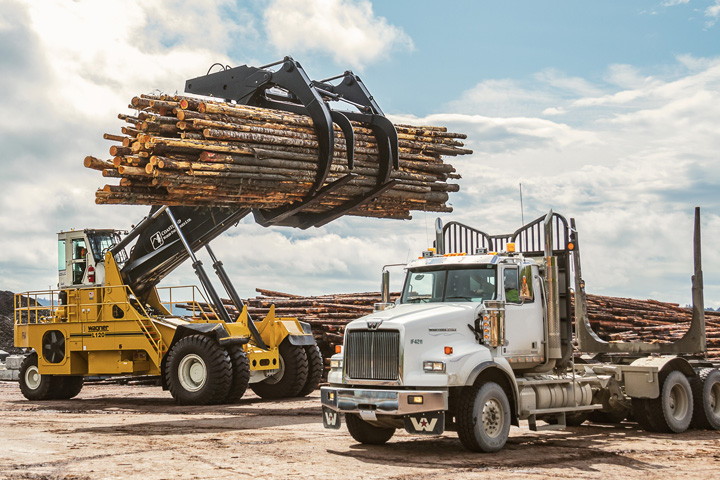 For decades, Wagner has been known as the most durable single pass Logstacker in the industry. The New Generation models build on that legacy by adding a host of new modern improvements coveted by both owners and operators.
No other log handler on the market can match the Wagner Logstacker's capacity, productivity or safety. The carriage provides unparalleled control of the load, minimizing damage. The high lift of the Wagner Logstacker, along with the kickoff arms, maximize the decking height and reduce the required space for log storage.
With capacities from 60,000 lbs to 160,000 lbs in both 2WD and 4WD, there is a Wagner Logstacker correctly sized for every log yard and mill yard application.


Features
Advantages Over Big Wheel Loaders
Options
Fast Hoist Speed Reduces Cycle Times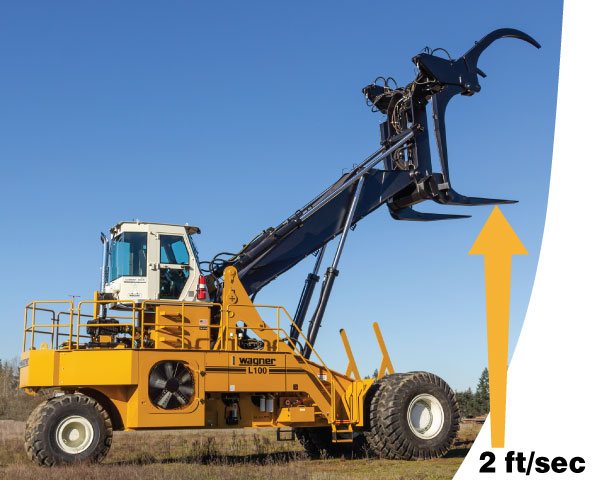 With a new load-sense hydraulic system, New Generation Logstackers are more efficient, generate less heat, and have twice the hoist speed of previous models (about 2 ft/sec).
Each Wagner Logstacker model includes engine, drivetrain, and hydraulic components designed to minimize cycle times.
Easy Routine Maintenance Saves Time
Filters and a remote engine oil drain are conveniently located in the lighted ground level service bay, allowing you to perform many routine maintenance tasks from one easy location while in a standing position. No more crawling under the machine.
Central lubrication points, easily accessed at ground level, make lubricating all pins, even remote pins on the carriage, safe and quick. Auto-lubrication is available as an option.
More Capacity for Dollar Spent
(Lifting, Tipping, and Hauling from A to B)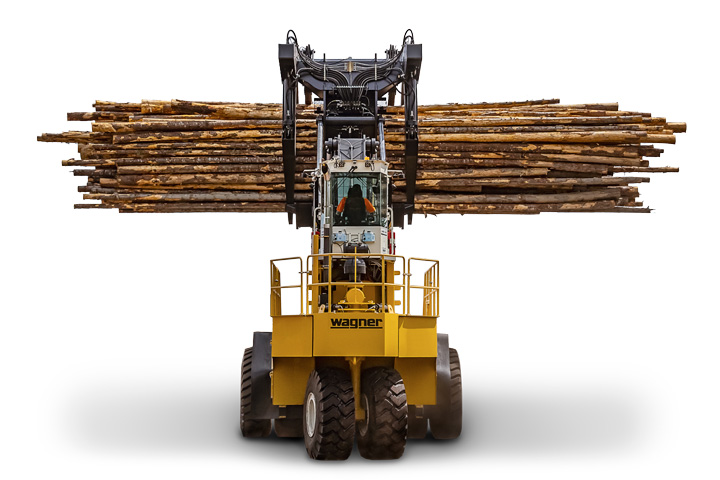 When you consider the capacity of the Wagner New Generation Logstackers and the overall cost of owning and operating, no other machine can provide the same value. Simply put, you will move more logs for less money with a Wagner.
No Center Hinge to Repair
Wagner 2WD Logstackers with tricycle steering do not have a center hinge that requires repair. Big wheel loaders typically require the center hinge to be repaired every 3-5 years. You can avoid this costly and time consuming repair entirely with a Wagner.
Machine Lifespan 2-3 X More with Wagner
Typical Wheel Loader
Wagner New Generation
L90 Logstacker
Purpose Built:
NO
(Multi-purpose construction machine)
YES
Tipping Capacity:
78,000 pounds
107,000 pounds
(get more capacity for your dollar!)
Decking Height:
12 feet
16 feet
(higher lift models also available)
Maximum Speed:
21.6 mph
22.4 mph
Lighted Ground Level Service Bay:
NO
YES
Perform routine maintenance in one easy access location.
Typical Lifespan Before Replacement:
5 to 7 Years
10 to 15 Years
Truck Unloading Distance:
56' 11"
53' 10"
(requires less space) In this case, less in MORE!
Wagner's New Generation Logstackers simply offer MORE!.
Don't fall into the trap of buying the same old short-lived machine. Your bottom line deserves better.
New Generation Wagner Logstackers also offer fast hoist speeds (approximately 2 feet per second), excellent visibility, an easily accessible robust cooling package, highest durability, and low fuel consumption. Give us the opportunity to show you how the New Generation Wagner Logstackers offer you MORE for the lowest total cost of ownership and let us sponsor your visit to see one in action!
3X the Tire Life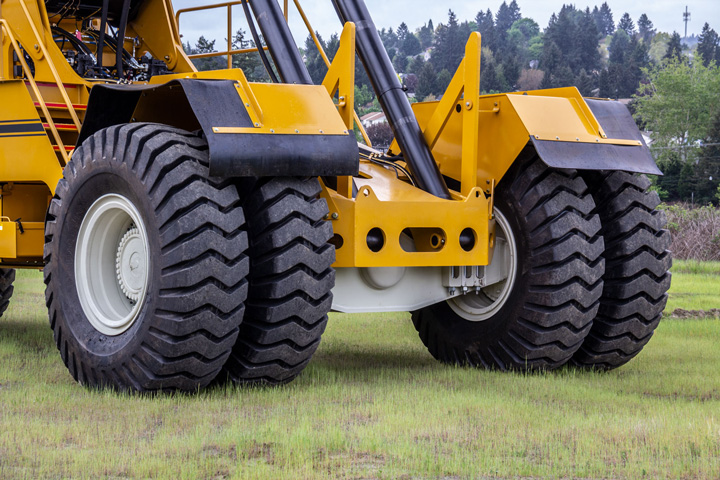 The Wagner 2WD Logstacker design with tricycle steering not only provides an excellent turning radius, but also significantly reduces the scrubbing of tires when turning and eliminates any utilization of horsepower to drive a second axle. This also results in longer tire life and reduced damage to the log yard.
Center-Articulated Wheel Loaders put over 80% of their Gross Vehicle Weight on the inside front tire in a turn causing premature wear to the tires and center-hinge. Because Wagner 4WD models are Rear-Articulated and tires are sized correctly for the application, the center of gravity shift is greatly reduced promoting longer tire life.
And dual front tires are standard on all Wagner logstackers with a capacity of 50 tons or more (and optionally available on smaller models). Dual front tires provide more stability and reduce ground pressure, minimizing damage to your yard.
Better Fuel Economy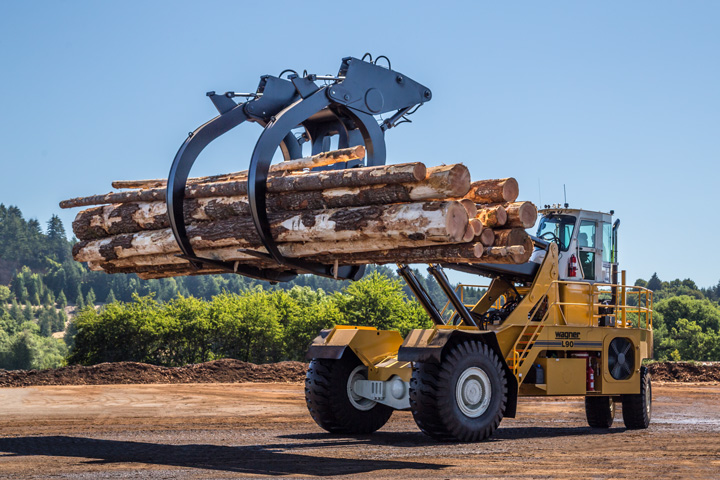 The Wagner Logstacker design requires less counterweight, reducing overall vehicle weight. And with a lower operating weight, Wagner Logstackers consume 30% less fuel than Big Wheel Loaders, resulting in hundreds of thousands of dollars in fuel savings over the life of the machine.
Wagner 4WD models have rear axles that can be disengaged based on ground conditions. The result is increased drivetrain efficiency and fuel economy.
Check out our Fuel Savings Calculator to see how a Wagner L90 compares to a Big Wheel Loader.
Greater Decking Height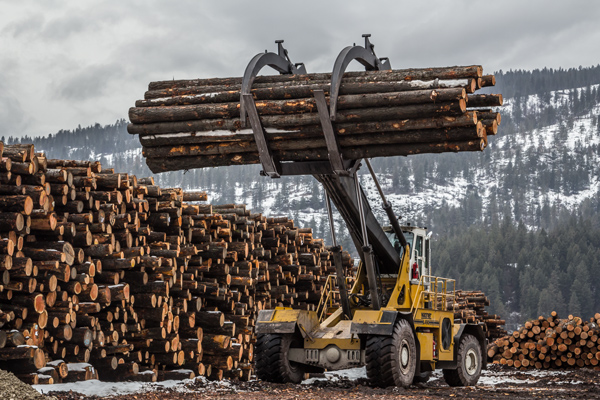 Wagner New Generation Logstackers have a maximum lift height that is 32% higher than a big wheel loader (and 47% higher on high-lift models). Independently-controlled kickoff arms allow the Wagner to unload the carriage without tilting the carriage down. This means that the Wagner New Generation Logstackers have a best-in-class decking height, allowing you to store more wood in less area.
Wagner New Generation Logstacker Videos
Wagner 60 Ton Logstackers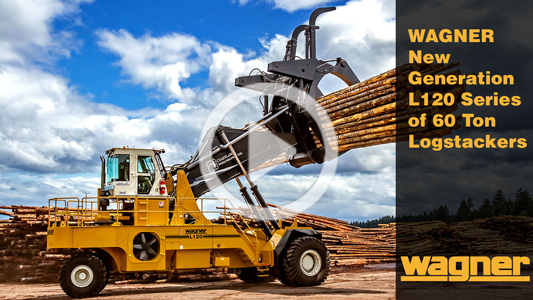 Wagner New Generation L90 Logstacker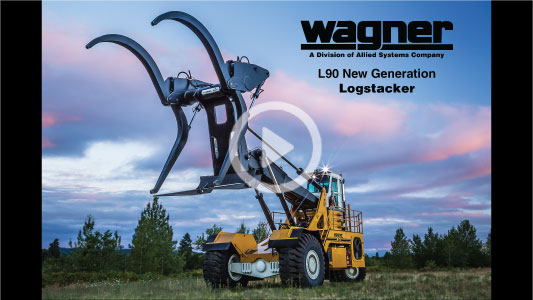 Wagner New Generation L490 Logstacker