Wagner Landfill Compactors
Manufactured with the same extreme durability as our Chip and Coal Handling Dozers, Wagner introduces its newest product line: The Wagner Landfill Compactor. Available in both 90,000 and 120,000-pound models, Wagner Landfill Compactors offer 30° of Front Frame Oscillation that keeps wheels on the ground for maximum compaction. In addition, Wagner Landfill Compactors are manufactured with a robust and easy to maintain mechanical drivetrain including Heavy Duty Double Reduction Planetary Axles.


Features
Advantages
Options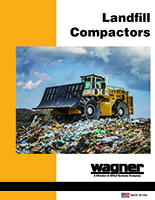 Model
Max Horsepower
hp [kW]
Operating Weight
lbs [kg]
LC90
430
[321]
90,000
[40,823]
LC120
550
[410]
120,000
[54,431]

Note:
Values in this table are approximate.
Specifications are subject to change without notice or obligation.
Wagner Support