July 23, 2012
Allied Systems Maintains Strong Dealer Relationships
In 1961, Bob Owens ordered his first Wagner Lumberjack, a model LJ330 with 30,000 lbs rated lift capacity. Sir Bob must have liked something. In the last 50 years, the company that is now C3 has ordered over 80 Wagner Lumberjacks and Carry Dozers. This includes a model L130 with 130,000 Ibs rated lift capacity for Rotorua Forest Haulage that is currently in production at Allied Systems Company in Sherwood, Oregon, United States. Much has changed over the last half century but the relationship that just celebrated its golden anniversary is still going strong.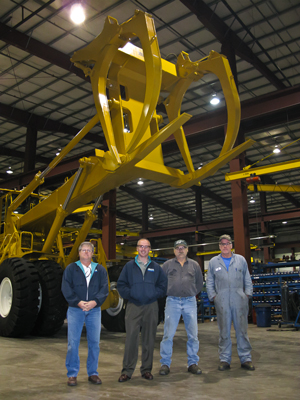 Allied has been in business for over 80 years, starting out as a manufacturer of sawmill and conveyor equipment. In 1981, Allied acquired the Wagner product. In the 1930's, the seven Wagner brothers developed a Mixomobile to more efficiently deliver cement to jobsites.
The Mixomobile was followed by the extremely successful Scoopmobile. The Scoopmobile had front wheel drive with a single steering wheel in the back, which should sound familiar to anyone who has been around a Lumberjack. The line of development from the Scoopmobile with its front wheel drive and rear tricycle steering to today's Lumberjacks is continuous and unbroken. The Wagner brothers also developed the first log skidders, FWD farm tractors, underground mining equipment and, of course, the Carry Dozer. Allied is proud to continue the Wagner tradition.
Allied has acquired four other product lines through the years, which are designed and manufactured in the same facility with our Wagner product. Allied Marine Cranes are designed and manufactured to the highest quality standards for customers around the world. Allied Winches are the world leader in bulldozer mounted winches and used on all brands of bulldozer throughout the world. Long Reach forklift attachments are used to improve material handling efficiency on forklifts throughout North and South America. Allied's latest acquisition is Freeman hay baling equipment. The primary market for the hay balers is here in the United States but some of these big red machines are used on dairy farms in New Zealand's south island.
As you can imagine the diversity of products makes for few dull moments at Allied. The common thread between all our products is that they are skookum ("skookum" is an American term, meaning "tough" or "durable"). All Allied team members take great pride in producing equipment that will stand up to the most demanding applications. Every day offers new opportunities to improve our products and make our customers more efficient.
All our products are sold and marketed via dealers. We believe that our dealers are key to the success of our products. A good dealer understands what the customer desires from the product and how the manufacturer's product fulfills those desires.
Allied is pleased with the long relationship we've had with C3. We're excited about what the future holds. There is a long-term need for custom designed log stacking and chip dozing equipment. We look forward to the next half century of fulfilling those customer needs.

Go Back Home
About Allied | Product Lines | News | Dealers
Publications Locator | Career Opportunities
Site Map

Privacy Statement and Legal Notice