Service

Well trained operators are critical for safe boat and cargo handling operations.
Training

From our smallest designs with ratings of 2500 lb. to 50 ton cranes with personnel rating, our team can deliver high quality training based on your specific needs. Whether the project is for a new installation or annual inspections, our service team will deliver every time day or night, around the globe.

Allied Systems Company proudly engineers and manufactures all of our cranes and davits in Sherwood Oregon, USA. Our highly trained team of factory field service representatives is uniquely qualified and has the expertise to provide superior crane operation and preventive maintenance training for your Allied Marine cranes and davits either on site, or at our factory in Oregon.
Benefits of scheduling Allied Systems Company Service Training
Our training will provide your operators with equipment specific training to learn the responsibilities of operating and maintaining your equipment including:
Pre-operational inspection.
Principles of operation.
Safe operation of emergency devices such as SOLAS.
Best practices for maintenance and storage.
Use of load charts and determining safe working loads.
Recognizing environmental limits.
Use of constant tension winches.
Training your trainer.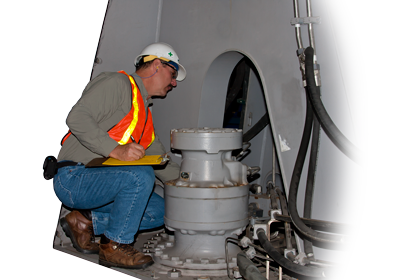 Inspection
Allied Systems Company's factory qualified technical representatives will support your marine crane or davit anywhere in the world.
When you schedule a crane or davit inspection from Allied, the technical representative will:
Test (operate) all crane functions
Inspect and provide reports to identify the operational status of the equipment
Determine quick and efficient preventive and corrective actions as needed to maintain operational readiness
Assist with repair parts and ensure proper installation
Benefits of Scheduling an Allied Technical Representative:
Your equipment is prepared prior to the regulatory weight testing and inspection required by USCG and ABS.
Long term savings and reduced operating costs are realized by keeping your crane in top working order.
You have direct access to Allied's technical and aftermarket support.
Assurance of equipment meeting original factory specifications and safety standards.
Recommendations for equipment upgrades to contemporary design.
Contact us today to schedule your Allied Technical Representative.
Service Department:
800.285.7000
After Hours Service:
503.746.1672
Main Office:
503.625.2560
Fax:
503.625.7616
Email:
service@alliedsystems.com