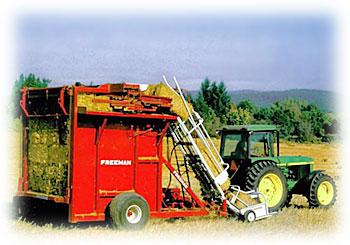 Specifications
Weight: 8,500 lbs.
Working Width: 9' 5"
Working Height: 13' 11"
Working Length: 20'
Tractor Requirements
Horsepower: 50 Hp or Greater to PTO
PTO Standard Speed: 540 RPM
Electrical System: 12V DC
Hydraulic System: Self-Contained hydraulic system operated by tractor PTO
Stack Size
Height: Up to 9' 4"
Width: 8' x 8'
Bale length required: 45" to 48"
Capacity
*Average Loads per Hour: 6 Loads
*Average Capacity (10Hr. Day): 3360 bales or 235 tons
* Average capacity refers to stacking 140 pound bales with distance to stacking area figured at up to 1/8 mile (capacities may vary depending on product, field conditions, and operator).

7000 Pull Type Bale Wagon
The Freeman 7000 Pull Type Bale Wagon gives you speed and reliability. It picks up complete loads, stacks at selected stack sites in the field, and is ready for another load in as little as 5 minutes.
For more information, take a look at the 7000 Bale Wagon brochure.
Features
Simple, reliable and easy to operate.

With your tractor and a Freeman 7000, stack 2-Tie, 3-Tie, 14", 15" or 16" high bales, at a rate of at least six loads per hour.

Stacks 56-15" or 16" 3-tie bales, 67-16" 2-tie bales, or 76-14" 2-tie bales per load.

Operator can pre-select different stack patterns which will be automatically inserted by the bale wagon.

Easy to operate automatic loading system. The building of a block stack is controlled by an electronic bale control system at each bale tier level throughout the stacking process.

Change from three-tie to two-tie bales in 10 minutes or less. Simply flip the switch on the main control box and move two brackets.

Hydraulic push off gently unloads stack quickly and retains stack quality. Bottom bales are aligned with the direction of unloading which aids retrieval access when using a forklift squeeze to load a hay truck.
Standard Equipment
Hydraulic 540 PTO drive
Self-contained hydraulic system
Tractor cab mounted accumulator control panel
Flotation tires, 21Lx16
Heavy duty wheels and spindles
Heavy duty screw type jack
Rear tire size: 21L x 16.1, 14 ply flotation
Pickup tire size: 4.80 x 8, 4 ply
Options
Hydraulic swing hitch
Worklights

Go Back Home
About Allied | Product Lines | News | Dealers
Manuals and Publications | Career Opportunities
Site Map

Privacy Statement and Legal Notice