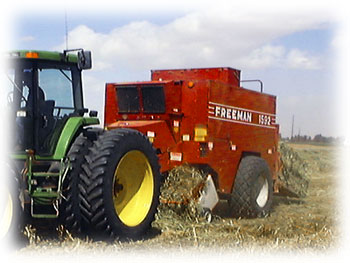 Standard Equipment
Bale chamber size: 38" x 46"
6 conventional twine knotters
Hydraulically driven plunger strokes only when bale chamber is fully charged
80 gpm Sundstrand main hydraulic pump
Pickup inside width-93 inches (2.36 meters)
Windguard for pickup, pickup mounted
1-3/4" 20 Spline 3 joint drive line
Reversible feeder crank and pickup from tractor seat
Remote control system for independent operation of feed fork
Pickup area lights, knotter light, rear lights red and amber rear warning lights
Knotter ties monitored by electric operated knot sensors
12 volt group 24 battery
Automatic oil luber for knotters
Dual knotter fans
Automatic hydraulic bale chamber tension control
Baler tire size: 23.1 x 26, 12 ply
Pickup tire size: 4.80 x 8, 4 ply
Two piece drawbar-standard with standard tail chute
Options
Less tail chute
Roller tail chute
34.5" x 46" bale chamber kit
Front panel tension gauge
Twine box dividers for use of unboxed balls of twine
Bale accumulator hitch assy complete-Hesston

1592 Big Balers
The 1592 baler features a hydraulic plunger system that takes on the toughest baling jobs, including alfalfa, straw, bermuda, sudan, haylage and cornstalks. The exclusive hydraulic drive system uses hydraulic relief valves instead of shear bolts to protect the baler. The feed system is reversible from the tractor seat, saving hours of labor time unplugging the baler.
For more information, take a look at the 1592 Big Baler brochure.
Features
Preserves original hay quality better than the gear-driven baler.
Ensures that hay flows freely from the windrow through the feed chute directly into the bale chamber, without the use of a pre-compression chamber.
Hydraulically driven bale plunger only operates when the bale chamber is fully charged.
Bales up to 45 Tons per hour.
Makes a uniform, compact 38" x 46" bale.
The 38" height allows three high stacking during transportation.
Specifications
Height: 10'
Working Width: 10'
Working Height: 9' 8"
Working Length with Bale: 30'
Baler Capacity: Up to 45 tons per hour
Bale Chamber
Height: 38"
Width: 46"
Bale Length: Adjustable up to 9' feet
Bale Weight: Up to 1600 lbs
Plunger
Speed: Up to 21 Strokes per Minute
Length of Stroke: 30"
Tractor Requirements
Horsepower: 140 Hp or Greater to PTO recommended
Electrical System: ASAE 7-Pin connector outlet
Hydraulic System: Single remote, pickup lift

Go Back Home
About Allied | Product Lines | News | Dealers
Manuals and Publications | Career Opportunities
Site Map

Privacy Statement and Legal Notice